COMAROILD
MOROCCAN COMPANY OF OIL AND DERIVATIVES

COMAROILD, a manufacturer of virgin argan oil, which is organically cultivated in our argan tree forests, would like to welcome you to our website. We have tried to make our website simple like the products we offer, as well as natural and authentic just like nature, which has provided us with this extraordinary miracle tree.
History
For thousands of years, the argan tree has used its thorny branches to protect its precious fruit, the argan nut, whose qualities were gradually discovered by Berber women over the course of centuries. The properties of this nut were a source of fascination for the women who, after breaking the nut to find a delicate kernel, pressed it to extract an oil with both culinary and regenerative qualities, which could be used for the skin, hair, small wounds and sunburn.
Intrigued by this natural phenomenon, scientists have studied this miraculous oil for the past thirty years or so, determined to discover the secret behind its acclaimed virtues.
What they discovered far exceeded what they had anticipated. It has now been proven that argan oil, when extracted in the optimum hygienic and technical conditions that COMAROILD provides, may, without any additives, provide a natural solution to some of the most complex skin problems, and even more astonishingly, it can also provide a natural treatment for certain cancers (prostrate, intestinal) and various skin disorders.
As the basic ingredient in the most sophisticated and effective cosmetics, argan oil will be a valuable ally to cosmetology laboratories.
We are proud to be able to offer you this natural perfection on our website.
Traceability

Our argan oil is organic, 100% natural and cold pressed, and both the process used to produce it and our suppliers are certified by ECOCERT. Our argan oil is primarily produced by the family of Zahra, who is our majority shareholder, and we are proud to point out that the photo on our home page features the chief palace from which Zahra's grandfather and father managed the cultivation and harvesting of argan trees.
In other words, we are confident in the quality of our raw materials, as they come from our forests and are largely harvested by female members of the family.
Each batch of harvested nuts is immediately labeled with a code which includes the plot number, the date of harvest and the geolocation of the site. The nuts, then the kernels, and finally the extracted oil that is delivered to your premises will be labeled with this code, thereby ensuring that what you have purchased is fully traceable.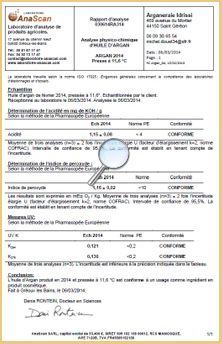 Contact
Tel France : + 33 6 09 36 65 54
GSM Morocco : + 212 6 61 24 34 69
Tel Morocco : + 212 5 24 30 56 64
info.comaroild@gmail.com